Tips for A New Mom.
Congrats on your newest bundle of joy. As you navigate the joys of being a new mom, remember to take deep breaths and know that you are doing the best that you can. You and your new baby are both learning along the way. 
SUPPORT
Friends and family are here to support you – this includes the providers at LaTouche Pediatrics. There is no shortage of tips and tricks to learn when you become a new mom.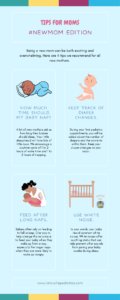 Here is some of our top advice: 
Naps: 1 to 2-hour nap lengths every 1 to 2 hours is what you should expect from your newborn baby. Rest when baby rests. 
Diaper Changes: In the beginning, we're going to ask you a lot of questions about diaper changes during your first few doctor visits. Things like the content inside of them, how often you're changing them, etc.  
Feeding: Your baby will likely wake up just as hungry as they were when they fed themselves to sleep. Feeding your baby when itwakes can help keep the pressure off of needing to be fed to fall asleep. It doesn't work for all babies, but it can help you understand your newborn baby's routine.
White Nose: We all love the soothing sound of white noise. White noise is similar to the sound your baby experienced in your womb. White noise helps keep your baby from being startled awake by other noises that may be going on inside and outside of your home during the daytime naps. 
Remember that we are always accepting new patients and are always here when you need us. We have evening and weekend hours and three locations to be convenient for you. We look forward to meeting your new bundle of joy soon.