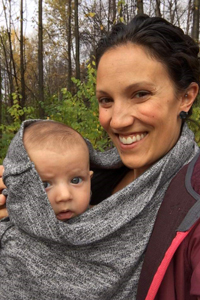 PATTI CLAY
MD, FAAP
Dr. Patti Clay grew up in Western NY and attended college at SUNY Geneseo. Following graduation, she spent two years in Denver serving in AmeriCorps as a doula, breastfeeding educator, and case worker for pregnant and parenting teens. It was during that time that she decided to pursue a medical degree and subsequently attended SUNY Downstate in Brooklyn. She completed her residency in Pediatrics at Seattle Children's Hospital as part of the Alaska Track, spending one year of her residency in Alaska split between LaTouche Pediatrics and YKHC in Bethel.
During residency, Dr. Clay spent much of her spare time convincing her not yet husband that Alaska was the place to be and once he completed his training in Los Angeles, they moved to Alaska full time. She worked briefly in Los Angeles at CHLA prior to that move and once they arrived in Alaska she began work at Southcentral Foundation, providing care to Alaska Native families living in the greater Anchorage area.
Dr. Clay has a special interest in adolescent health, particularly reproductive health. She has also been involved with school-based health since her pre-medical school days and has continued to pursue this interest since relocating to Anchorage. Dr. Clay has worked with diverse communities since her early days of training, first in Federally Qualified Health Centers in Denver, then on to Brooklyn, Seattle, Anchorage, Bethel, and Los Angeles. She enjoys learning from families, striving to understand barriers to quality care, and ensuring families are involved in the medical decision making for their children.
Outside of work, she spends much of her time chasing after her two young kids. She and her husband enjoy camping, hiking, and exploring cities. On her own, she enjoys gardening, running, summiting new peaks, baking cakes, and reading as many books as time allows.