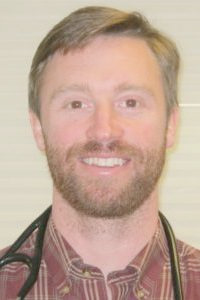 GREG FAHL
MD, FAAP
Dr. Fahl grew up in Albuquerque, New Mexico where he fell in love with hiking and the outdoors. After graduating high school he spent six summers as a park ranger keeping people and bears apart in Katmai National Park. He went to college at the University of Chicago and medical school at the University of New Mexico.
He always left the hospital with a smile on his face after taking care of children and decided to specialize in pediatrics. He completed residency at Seattle Children's Hospital and spent one year of his training in Alaska learning how to practice medicine here.
He is very excited to join La Touche Pediatrics and finally realize his dream of moving to Alaska full time as a pediatrician! His favorite part of his job is supporting first time parents in the first year of childhood. Given the opportunity, Dr. Fahl will talk at length about all things fishing, share some good bear stories, and laugh at the antics of his chocolate labrador, Theo.