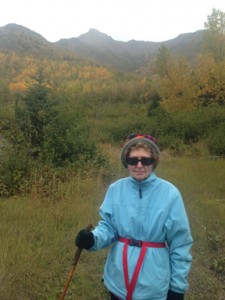 Dr. von Hippel graduated from Sidwell Friends a few years before the Obama girls were sent there. After majoring in government at Oberlin College for a Bachelor of Arts Degree, she earned her M.D. at Vanderbilt University in Nashville. She did her pediatric residency in Boston and Iowa City.
Dr. von Hippel and her husband, Arndt, drove up the dusty Alaska Highway with their three small children. Their fourth child arrived soon after they reached Alaska. In Alaska, Dr. von Hippel worked part-time for several years in the Pediatric Out-Patient Department of Elmendorf Hospital, before opening her solo private practice in behavioral pediatrics. In 1997, Dr. Lyon asked her to teach a parenting class for LaTouche Pediatrics' patients. Following a series of four classes, Dr. Lyon and Dr. Kiehl invited Dr. von Hippel to join their practice—which she did in May of 1998. Her work with the congenial and growing group of providers at LaTouche has been interesting and far more enjoyable than working alone.
Dr. von Hippel's behavioral pediatrics practice is mostly ADD/ADHD. She says that it is very gratifying to see kids who were struggling in school show improvement after treatment and to have parents report that their kids actually like school! She also enjoys helping parents deal with the often-challenging behaviors of these kids.
For fun and exercise, Dr. von Hippel and Arndt walk year-round in the forests along Turnagain Arm. They find it relaxing and even therapeutic. They also like to spend time with their kids and grandkids and still enjoy bicycle rides on various Anchorage bike paths in the summer.