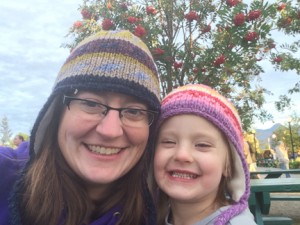 Dr. McArthur started her college career in hotel restaurant management at the University of Las Vegas and quickly found out she was too nice for that type of sell-it-once-or-never-again type of business. She switched to athletic training since her love of anatomy and sports seemed like a perfect fit for the job but she soon realized that she wanted to be able to make the diagnosis, not wait for the doctor to do so. She ended up with a Bachelor's of Science Degree in Biology from Washington State University and then took a couple of years off to be an aquatics director and swim instructor while waiting for the perfect opportunity to go to medical school. She found that opportunity at Tulane University in New Orleans. She says she is more of a home-body, so she is not sure how she ended up in two 24-hour towns, but she did enjoy her time there, listening to live music and eating great food, when she wasn't studying. After graduating from medical school, Dr. McArthur came back to her Oregon roots and completed her pediatric residency at OHSU in Portland, Oregon.
After her residency, Dr. McArthur was complaining of the heat in Portland when her sister suggested she move to Alaska. As luck would have it, Dr. Andrea Bateman, a former OHSU graduate, was working at LaTouche Pediatrics and put Dr. McArthur in touch with the right people here. She says it was a natural fit from the beginning.
Dr. McArthur knew 3 days into her pediatric rotation in medical school that this is where she belongs. She loves spending time with kids and learning from their wisdom, like when a 9 year old boy told her that "a fart is a poop knocking on the door to come out." She says she could see 20 ear infections a day and never get bored because each kid is different. Her goal is to make all the kids she sees smile at least once, even if it is because she is saying goodbye. Dr. McArthur has developed a special interest in breastfeeding support as it is so gratifying to see a baby get latched well for the first time. She still has her love of sports and anatomy, so sports medicine also makes her smile, and she especially loves knees.
When she is not working, Dr. McArthur is spending time with her family, soaking up every moment she can get with her children while they are young and still enjoy spending time with her. She likes hiking and playing with their two basset hounds, as well as reading and learning the intricacies of an air-cooled engine. And though she never went to the University of Oregon, she is from Eugene and so, will always be a duck at heart.