The best way to contact our office is through our Patient Portal. To learn how to send us a secure message, request an appointment or request a prescription refill, click here. If you do not have an account, please call 562-2120 to get signed up.
You can also reach us through the following avenues:
Fax: (907) 562-6527
If you have a health care concern regarding your child, please call our office to speak to a nurse. This is a general email box that is checked once a day. Note to Patients regarding e-mail transmissions: Using the internet is your choice. There are a number of risks you should consider before using email to communicate with us: email can be circulated, forwarded and stored in numerous paper and electronic files; email can be intercepted, altered, forwarded or used without authorization or detection; email senders can easily misaddress an email; backup copies of email may exist even after the sender deletes the email; employers and online services have the right to inspect email transmitted through their systems; email is easier to falsify than handwritten or signed documents; and email can be used to introduce viruses into computer systems.
Confidentiality of Internet communications cannot be guaranteed by LaTouche Pediatrics, LLC. Use of the Internet is solely at your own risk.
Central Office
3340 Providence Drive
Suite A-452
Anchorage, Alaska 99508
Monday-Friday: 8am-6:00pm **We are closing early temporarily due to the screenings being done at the Providence Hospital for COVID-19
Saturday: 8am-4pm
Sunday: 10am-4pm
***During The COVID-19 Pandemic, When Arriving At Providence For An Appointment You Must Enter Through The Door On The First Floor of Parking Structure 2 (or PS2). The Entrance Location Is Indicated On The Below Map As The Orange Dot With the Number 3.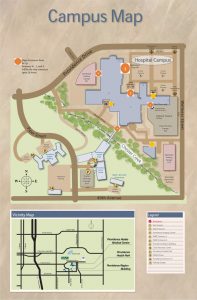 Huffman
1301 Huffman Road
Suite 110
Anchorage, Alaska 99515
Monday-Friday: 8:30am-5pm
Closed for Lunch: 11:50am-12:50pm
Eagle River
17101 Snowmobile Lane
Suite 203
Eagle River, Alaska 99577
Monday-Friday: 9:00am-5:00pm
Closed for Lunch: 12:20pm-1:20pm
Holiday Closures
New Year's Day
Easter Day
Memorial Day
Independence Day
Labor Day
Thanksgiving Day
Christmas Day