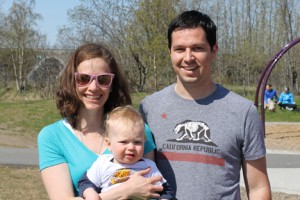 Dr. Enright is a desert girl at heart, having spent most of her life in the Southwest, but she is growing to love the arctic climate of Alaska. She was born and raised in Albuquerque, New Mexico and completed her undergraduate degree in Biochemistry at the University of Arizona. She briefly left the Southwest to spend a semester abroad in Florence, Italy but then returned to her hometown to attend medical school at the University of New Mexico. She knew going into medical school that she wanted to be a pediatrician because she has always loved working with children.
After graduating from medical school, Dr. Enright entered active duty in the Air Force and completed her pediatric residency at Bethesda National Naval Hospital and Walter Reed Army Medical Center in Washington, D.C. She then got her orders to come to Alaska and has spent the last three years as a staff pediatrician at Joint Base Elmendorf-Richardson. Dr. Enright says it has been an honor and a joy to work with military children and their families but she is ready to start a new chapter in her life, here at LaTouche Pediatrics.
In her spare time, Dr. Enright loves to run, read and spend time outdoors with her husband and son.