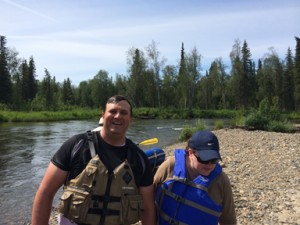 Dr. Penman is a lifelong Alaskan and graduated from Dimond High School. He received his bachelor's degree at the University of Alaska, Anchorage before leaving the state to go to medical school at the University of Washington School of Medicine, as part of the WWAMI program. With the WWAMI program, Dr. Penman was able to come back to Alaska for his pediatric rotation. He was the first class of the Alaskan pediatric rotation, whose coordinator at the time was Dr. Lyon. Dr. Penman credits his experience in the program with his decision to become a pediatrician. He completed his pediatric and adolescent specialty residency at St. Joseph's Hospital in Phoenix, Arizona, before coming home to begin practicing at LaTouche Pediatrics.
What has surprised Dr. Penman most about working in pediatrics, and what brings him the most joy, is how involved he gets to be in his patients' lives, watching them grow and participating with their families. He enjoys serving the families of this community and has a particular interest in adolescent medicine, diabetes, and the promotion of literacy.
In his free time, Dr. Penman enjoys spending time with his wife and four sons hiking, camping and fishing. Dr. Penman also enjoys cooking recipes from all over the world.